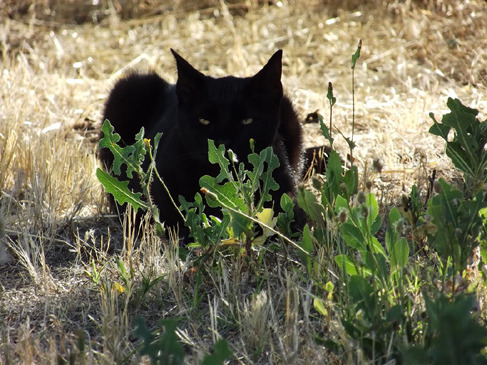 This amputation is my first really major run-in with the vet. Sure we've gone there for shots (though rarely, and now that I know the rabies vaccination can give your kitties tumors, I'm probably never doing that again either!), and to get my doggy put to sleep two years ago (old age, throat collapse), but not for major surgery. I sort of expected that all vets would be equal and know what to do – wrong.
One thing I've learned is that you really have to take your cat's medical care into your own hands and make sure that your vet is really doing what's best for your baby. I am so appreciative that the people at Tripawds Forums know about what to expect and what to require as far as an amputation goes, because I was going into this blind. They offered these articles, which I highly recommend, about what to expect from the vet, and what to ask them about:
How to Choose a Veterinarian for Amputation Surgery
Dr. Kay's 12 Things to Expect from Your Vet
I was also suggested by a few people (both at home and on forums) to go out and get a second opinion, which I would also highly recommend. I called the Vet School nearby, and a surgeon there was kind enough to say that he would consult with me via email regarding my cat's amputation. Unfortunately, he didn't email me back. However, I was lucky enough to be able to chat briefly with a vet on Tripawds Forums and it did make me feel a lot better. I wish the guy from the vet school would get back to me, but, I'm glad that I at least tried. Getting a second opinion helps to (1) make you feel better that you're doing the right thing, and (2) figure out what the gaps might be in your current vet's care and assess whether or not those gaps are okay.
For example, I love my vet – she has a relationship-based way of providing medical care and she is always willing to answer my questions by email during her off-hours. That's a huge deal. She is also willing to let ME decide what we should do with Fang – she doesn't presume that she can choose what's best. She is also really flexible, and obviously feels like my comfort level is very important. The hospital she works at is open all night, with trained staff and at least 1 doctor there at all times. The surgery is done with two assistants in addition to the surgeon (my vet), and one of those assistants is trained well enough that they could actually perform the amputation themselves. All of these things make me feel much better about the amputation – and I would never have known if I didn't ask (and if I didn't know to ask – thanks guys).
However, there are some issues with pain management, and these are issues that you really really need to discuss with your vet.
Pain Management
People I've talked to about amputation (who have gone through it with their pets themselves) have been kind enough to tell me that vets have extremely different approaches when it comes to pain management. Apparently theories have changed over the years, so vets trained in the recent-ish past may not do as much to PREVENT pain as they do to treat the pain once it occurs. This is an issue, because there are things that can be done to prevent some of the pain from ever occuring.
The most important things seem to be: (1) administering Gabapentin before the surgery (2) using nerve blocks during the surgery, and (3) using a morphine drip during and after the surgery. Talking to your vet about these things is important. For example, my vet does not use Gabapentin, but was willing to try it because I asked. My vet does not use a morphine drip – they use a fentanyl patch which is a a pain patch put on his foot that releases fentanyl for about 4-5 days, that way he has it when he goes home too. I still don't know if this is better or not, but I wouldn't have known to even ask. My vet generally does not send home oral medication in addition to the fentanyl patch, but is willing to give me a liquid one as well just in case I need it.
After talking with her I feel much better about the surgery, and feel like I did something to help his recovery be better than it would have been otherwise. I also, through this conversation, found out that my vet is really flexible and willing to do things the way that I would like them to be done. She has been an excellent mediary between myself (no medical experience) and the medical world. I really appreciate that.
But remember that no vet is perfect. Phantom limb pain occurs in lots of cats (and dogs), but my vet had never heard of it. This was the most worrying thing for me, and one of the biggest reasons that I was seeking a second opinion. I am still unsettled about this issue, but feel like the additional pain prevention will also help to prevent the phantom limb pain. My vet believes that arthritis is not often an issue with three-legged cats, but forum members who've got three legged cats have recommended that I start Fang on a joint supplement. I love my vet, and I feel confident in her, but there are differences in medical opinion out there, and it's your job as loving owner to find them.
My point is that the reality of the situation is that you need to ask and find out what is really going on at your vet's office. You need to be sure that your vet is the right one for the surgery, and that their facility is the right one for the surgery. YOU need to do the homework and be an advocate for your pet because you cannot, cannot, cannot assume that the first vet you went to is going to be the best one for your kitty.