On Monday 10/22/12 I noticed a very large bone-hard lump on my 10 year old cat's shoulder. I took him to the vet the next day and, after x-rays, they said that he has a bone tumor. They were surprised because apparently this typically occurs in large dogs, not cats, and so there aren't a lot of previous cases to go by. Later in the evening they called to tell me that after an expert examined the X-ray, they believe that it might be a benign tumor since his bone has not been destroyed – it is just growing. He is not in any pain at all, and he has no limp (which would likely be the case if it was cancerous). However, they say that even if it's benign it will continue to grow rapidly and will break his leg and cause extreme pain. We could do a biopsy, but its a painful surgery and even if it is benign, the amputation would still be required.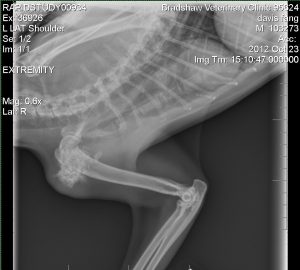 So, I am faced with this horrible decision that I must make quickly, as this thing is growing very rapidly. I don't know if I should amputate, or put him to sleep.
I keep reading that cats do very well with three legs, and I was feeling much better – but then I looked at videos. It seems like cats that lose a hind-leg do fantastically, but the videos seem to show me that when they lose a front leg, walking around seems to be very difficult. Some of them seem to almost have to crawl all the time. I am back to being a wreck. I don't know what to do.
Part of the issue is my cat's personality. He is already a skiddish – he likes to cuddle but hates strangers and quick movements. I have no idea if that will worsen after the surgery, but I kind of feel like it. Also, he is an outdoor cat. He has spent 90% of his life hunting outside and hates to be cooped up indoors. But, with a front leg amputation, will it be possible for him to really run around outside like he used to? It doesnt seem like it from the videos…. I think he might hate his life if I forced him to be inside forever.
I feel so guilty. I take him to the vet and they put him to sleep and then he wakes up with no arm? That's horrifying, isn't it?
I don't know what's best, and I don't know what to choose. I feel like I'm condemning him no matter what I do.