Tripawds is a user-supported community. Thank you for your support!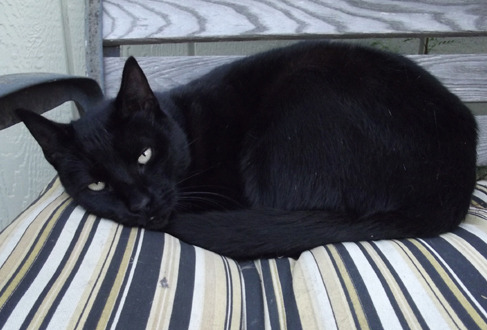 Yesterday, 11/3/12 was Fang's surgery day. He had to be there three hours before surgery to have the iv and pain meds set up, be shaven, etc, so he needed to be there by 12:00pm (surgery was at 3:00pm). Naturally, I waited till the very last possible minute to get him there (I think we were literally there AT 12:00pm). I gave him a dose of Gabapentin and spent the whole morning cuddling with him on the bed. He was a little mean to me when I touched his lump so I think that it had finally started to bother him a bit. I figured it was "fortunate" that we were doing surgery that day (though it didn't feel very fortunate). At 12:00 we took him to the vet with his Gabapentin (so they could give him some more last night) and a surgery technician came out and asked me questions about what stuff I wanted to purchase with the surgery (fluids, IV, etc). I had no idea what he needed so I just told her to let the vet (who I've been emailing with constantly) decide what to do. I was so glad that I had talked to her so much because I felt confident that she knew what we wanted in terms of pain prevention etc, and otherwise I would not have known what to write down on the sheet.
Then they took him away. It was heart wrenching for me – the last moment that I could say "never mind all this stuff, I'm taking him home and we'll deal with it some other way". Nope, that was pretty much the no-turning-back-point. I waited anxiously for a call at around 4:00pm (she said the surgery would take about 1 hour) but didn't receive one until 5:00pm (she had another surgery before his). She said that there were no complications (other than him getting his claws into some of the nurses when they tried to take him out of his cage) and everything closed up nicely. She had changed the pain meds before doing the surgery because she found that the foot patch he had on counteracted the liquid pain meds she was planning to give him during surgery and post-op, so instead she used a drip. I was so glad that she took the extra time to make sure that he had the best pain meds he could have had.
He is now resting at the hospital waiting for me to pick him up after 10:00am. I really appreciate that this is an overnight hospital. I know he hates vets and I hate for him to be there, but I would not have been able to handle any after surgery complications. It's definitely the only way to go, in my opinion.
I spent the rest of the night sewing the arms closed on onesies and cutting the other arms open more for his comfort, making a corner of the room all comfy with blankets and towels and a litter box which I hope he'll use, putting a little heater in the room etc.
Now the recuperation begins. At least the decision making is behind us and the only place to go is up.
Surgery Overview (added later in hindsight)
– Took about an hour
– I used Gabapentin the morning and evening the day before surgery, and the morning of surgery. They gave him some more just before surgery in the afternoon, the night of surgery, and the morning after.
– Fentanyl foot patch was put on him three hours before surgery at the vet's office to be kept on for 3-4 days after surgery.
– Morphine drip during and after surgery.
– Tramadol pills given to take home just in case additional pain medication was needed (it was not).
– They trimmed his nails while he was asleep at the vet. It is "normal" procedure and they will apparently do it unless you tell them not to, which I wish I had.
– He stayed the night at the vet to be picked up the next day.